Tracklist intégrale des SingStar PS2 / PS3 / PS4 – Versions françaises
Voilà, ça fait pas mal de temps que je parcours les sites web à la recherche de la liste des chansons des SingStar sortis sur PlayStation 2. Impossible de mettre la main sur un site complet qui contient tout le listing des chansons, en effet, même le site officiel de SingStar ne détaille pas tous les jeux sortis chez nous -_-, c'est donc bibi qui s'y colle! En espérant que ça pourra servir à d'autres personnes!
Un petit sommaire:
---
– PS2 – 30 chansons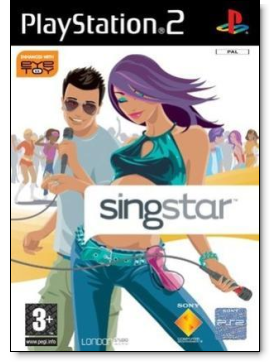 A-ha – Take On Me

Atomic Kitten – Eternal Flame

Avril Lavigne – Complicated

Blondie – Heart Of Glass

Blue – One Love

Cali – C'est Quand Le Bonheur

Carl Douglas – Kung Fu Fighting

The Darkness – I Believe In A Thing Called Love

Deee-Lite – Groove Is In The Heart
Dido – Thank You

Elvis Presley – Suspicious Minds

Emma Daumas – Tu Seras
George Michael – Careless Whisper

Jamelia – Superstar

Jessica Marquez – Magdalena

Liberty X – Just A Little

Madonna – Like A Virgin
Mis-Teeq – Scandalous

P!nk – Get The Party Started

Rick Astley – Never Gonna Give You Up

Ricky Martin – Livin' La Vida Loca

Roy Orbison – Oh, Pretty Woman

S Club – Don't Stop Movin'

Sinclair – Ensemble

Sinclair – Si C'est Bon Comme Ça

Sinclair – Votre Image

Sophie Ellis Bextor – Murder On The Dancefloor
Tragedie – Hey Oh

Village People – Y.M.C.A.

Westlife – World Of Our Own
---
– PS2 – 30 chansons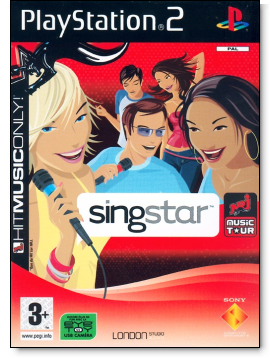 African Connection – Ami Oh
Alicia Keys – Fallin'
Aventura – Obsesion
Billy Crawford – Bright Lights
Bob Marley – No Woman No Cry

Buggles – Video Killed The Radio Star

Busted – Year 3000

Cyndi Lauper – Girls Just Wanna Have Fun

Destiny's Child – Survivor
Dido – White Flag
Dis L'Heure 2 Zouk – Laisse Parler Les Gens!!!
Elton John & Kiki Dee – Don't Go Breaking My Heart

The Foundations – Build Me Up Buttercup

Franz Ferdinand -Take Me Out

George Michael – Faith

Jamiroquai – Cosmic Girl

K-Maro – Femme Like U

Kylie Minogue – I Should Be So Lucky

Little Richard – Tutti Frutti

Lynnsha – S'Evader

Maroon 5 – This Love

Nâdiya – Et C'est Parti…
Nâdiya – Parle-Moi

Pearl – J'ai Des Choses À Te Dire

P!nk – Just Like A Pill

The Police – Every Breath You Take

Sonny & Cher – I Got You Babe

Spice Girls – Who Do You Think You Are

Willy Denzey – Le Mur Du Son

Willy Denzey – L'Orphelin
---
– PS2 – 30 chansons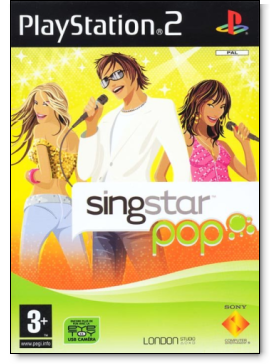 Annie – Heartbeat

Ashlee Simpson – Pieces Of Me

Avril Lavigne – Sk8er Boi

Beyonce – Crazy in Love

Black Eyed Peas – Shut Up

Blink-182- What's My Age Again

Dandy Warhols – Bohemian Like You

Eric B. and Rakim – Paid in Full

Fountains of Wayne – Stacy's Mom

Girls Aloud – Love Machine

Good Charlotte – I Just Wanna Live

Hoobastank – The Reason

Jamelia – Stop

Jay Sean – Eyes on You
Joss Stone – Super Duper Love

Keane – Somewhere only we know

Kylie Minogue – In Your Eyes

Manfred Man – Do Wah Diddy

Marilyn Manson – Personal Jesus

McFly – Obviously

Natasha Bedingfield – These Words

Outkast – Roses

Robbie Williams – Let Me Entertain You

Robbie Willams & Kylie Minogue – Kids

Ronan Keating & Yusuf Islam – Father and Son

Sister Sledge – We are family

Steppenwolf – Born to be Wild
The Clash – Should I Stay or Should I Go?
The Hives – Main Offender

Tom Jones – It's not unusual
---
– PS2 – 30 chansons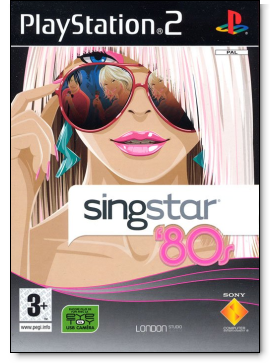 Billy Joel – Uptown Girl

IMAGINATION – Just An Illusion
Opus – Live Is Life

Blondie – Atomi

c
INXS – Need You Tonight
Ottawan – T'es OK
Caroline Loeb – C'est la ouate
Julie Pietri – Eve lève-toi

Philippe Lavil – Il tape sur des bambous

La Compagnie Créole – Le bal masqué
Kate Bush – Running Up That Hill
Ricchi E Poveri – Sarà Perché Ti Amo

Corynne Charby – Boule de flipper

Katrina And The Waves – Walking On Sunshine

Sabine Paturel – Les bêtises
David Et Jonathan – Est-ce que tu viens pour les vacances

Laroche Valmont – T'as le look coco

Simple Minds – Don't You (Forget About Me)

Elsa – T'en va pas
Lio – Les brunes
Soft Cell – Tainted Love

Europe – Final Countdown

Madness – Our House

Stéphanie – Ouragan
F. R. David – Words
Madonna – Material Girl

Tears For Fears – Everybody Wants To Rule The World

Gold – Plus près des étoiles

Nena – 99 Red Balloons

Wham! – Wake Me Up Before You Go-go
---
– PS2 – 30 chansons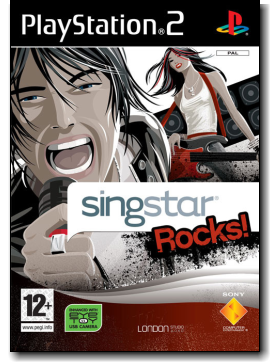 Arkol – Vingt ans

Bénabar – Y'a une fille qu'habite chez moi

Bloc Party – Banquet

Blur – Song 2

Coldplay – Speed Of Sound

Dionysos – Tes lacets sont des fées

Dolly – C'est pour toi
Elista – Debout

Eskobar Avec Emma Daumas – You Got Me

Franz Ferdinand – Do You Want To

Gwen Stefani – What You Waiting For?

Hole – Celebrity Skin

Jet – Are You Gonna Be My Girl

Keane – Everybody's Changing

The Killers – Somebody Told Me

Kinito – La maison de disque

Kyo – Dernière danse

Kyo featuring Sita – Le chemin

-M- – Je dis aime
Mass Hysteria – Remède
Miossec – Je m'en vais

Nirvana – Come As You Are

The Offspring – Self-Esteem

Raphaël – Caravane

The Rolling Stones – Paint It, Black
Silmarils – Vas y avoir du sport

Sinclair – Ca m'fait plus mal

Sinclair – Supernova Superstar

Superbus – Radio Song

Têtes Raides – Fragile
---
– PS2 – 30 chansons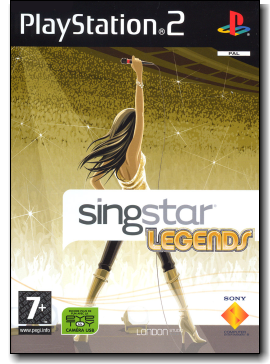 Aretha Franklin – Respect
Barry White – You're The First, The Last, My Everything
Black Sabbath – Paranoid

Blur – Parklife

David Bowie – Life On Mars?

Depeche Mode – Enjoy The Silence

Dusty Springfield – Son Of A Preacher Man
Ella Fitzgerald and Louis Armstrong – Let's Call The Whole Thing Off
Elton John – Rocket Man (I Think It's Going To Be A Long Long Time)
Elvis Presley – Blue Suede Shoes
Hélène Ségara – Il y a trop de gens qui t'aiment
Jackie Wilson – Reet Petite

The Jackson 5 – I Want You Back

John Lennon – Imagine
Johnny Cash – Ring Of Fire
Lynyrd Skynyrd – Sweet Home Alabama
Madonna – Papa Don't Preach
Marvin Gaye – I Heard It Through The Grapevine
The Monkees – Daydream Believer
Nirvana – Smells Like Teen Spirit
Patsy Cline – Crazy
Pet Shop Boys – Always On My Mind
The Police – Roxanne
The Rolling Stones – Sympathy For The Devil
Roxy Music – Love Is The Drug
Sam Cooke – Wonderful World
The Smiths – This Charming Man
Tina Turner – What's Love Got To Do With It?
U2 – Vertigo
Whitney Houston – Greatest Love Of All
---
– PS2 – 30 chansons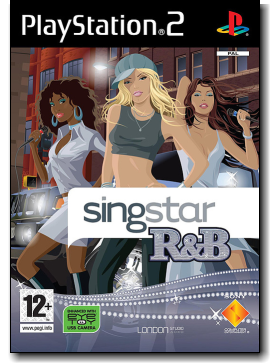 Amerie – 1 Thing

Amy Winehouse – Back To Black

Anastacia – I'm Outta Love

Beverley Knight – Come As You Are
Black Eyed Peas – Pump It
Chris Brown – Yo (Excuse Me Miss)
Christina Milian – AM 2 PM
Corinne Bailey Rae – I'd Liked To
Destiny's Child – Bootylicious
Diana Ross & The Supremes – Baby Love
DJ Jazzy Jeff and The Fresh Prince – Summertime
Edwin Starr – WAR
En Vogue – My Lovin' (You're Never Gonna Get It)
The Four Tops – Can't Help Myself
Gwen Stefani – Hollaback Girl
Inner City – Good Life
Jamelia – Thank you
Jamiroquai – Alright
Luther Vandross – Never Too Much
Mark Ronson feat. Daniel Merriweather – Stop Me
Martha Reeves & The Vandellas – Dancing In The Street
Marvin Gaye & Tammii Tarrelle – Ain't No Mountain High Enough
OutKast – Idlewild Blue (Don't Chu Worry 'Bout Me)
Pussy Cat Dolls – Buttons
Rihanna – We Ride
Salt N Pepa – Push It
Sugababes – Ugly
The 411 – Dumb
Whitney Houston – Your Love is My Love
Womack & Womack – Teardrops
---
– PS2 – 30 chansons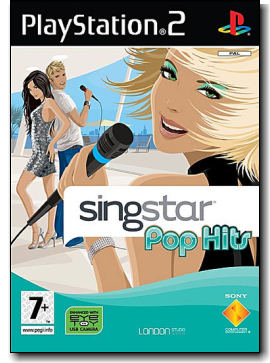 Akon – Lonely
Anaïs – Mon Cœur Mon Amour
Bratisla Boys – Stach stach
Britney Spears – Baby One More Time
Corneille – Les marchands de rêves
Diam's – DJ
Diam's – Jeune demoiselle
Fatal Bazooka – Fous ta cagoule
Jane Fostin en duo avec Medhy Custos – Pas de glace
Jennifer Lopez – Jenny From The Block
Kaolin – Partons Vite
Katerine – Louxor J'Adore
K-Maro – Histoires De Luv
Lââm – Petite sœur
Leslie – Et j'attends
Lynnsha feat. D. Dy – Hommes…femmes
M. Pokora – De retour
Medhy Custos – Elles demandent
Nâdiya – Amies ennemies
Nâdiya – Roc
Najoua Belyzel – Gabriel
Olivia Ruiz – J'traîne des pieds
Olivia Ruiz – La Femme Chocolat
Perle Lama – Emmène-moi avec toi
Shy'm – Femme de couleur
Shy'm – Victoire

Sinclair – A Chaque Seconde

Sinik feat. Vitaa – Ne dis jamais

Superbus – Butterfly

Vitaa – A fleur de toi
---
– PS2 – 20 chansons
Amine – J'Voulais
Amine – My Girl
Ayo – Down On My Knees
Bénabar – Le Dîner

Christophe Willem – Double Je

David Guetta – Love Is Gone
David Guetta – Baby When The Light
Emmanuel Moire – Le Sourire
Fatal Bazooka – Trankillement
Humphrey – Dingue
Leslie & Amine – Sobri 2
Luke – Soledad
Magic System – Bouger Bouger
Magic System – Ki Di Mié
Melissa M feat Akhenaton – Avec Tout Mon Amour
Myriam Abel – Donne
Shy'm – Tu Es Parti
Shy'm – Oublie Moi
Tété – Fils de Cham
Thierry Amiel – Coeur Sacré
---
– PS2 – 20 chansons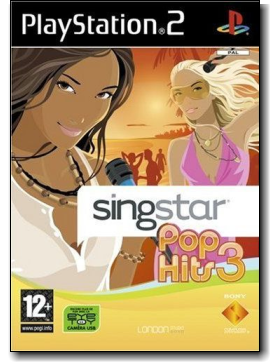 Alexandra Lucci – Le destin de Lisa
Cali – Comme j'étais en vie
Christophe Maé – On s'attache
Christophe Maé – Parce qu'on sait jamais
Clara Morgane – Sexy girl
Gaëtane Abrial – 68 2008
Kayliah – Caractère
Kenza Farah – Je me bats
Lorie – Je vais vite
Melissa M – Cette fois
Mokobé feat Patson – C'est dans la joie
Neïman – Viens
Pauline – Allô le monde
Plasticines – Loser
Priscilla – Chante
Sinsemilia – Tout le bonheur du monde
Tony Parker – Balance-toi
Vegastar- 5h dans ta peau
Victoria – Le héros d'un autre
Yelle – A cause des garçons
---
– PS2 – 20 chansons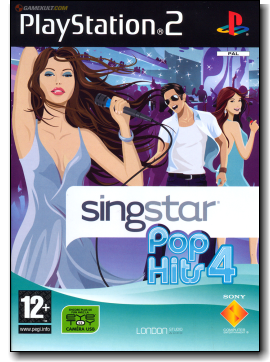 Alizée – Mademoiselle Juliette

Amel Bent – Tu n'est plus La

Anggun – Etre une femme
Bebe Lilly – Les cowboys
Céline Dion en Duo avec Garou – Sous le vent
Christoph Maé – Belle demoiselle

Christophe Willem – Jacques a dit

Fréderic Lerner – On partira
Kamini – Marly Gomont
Laam – Pour étre libre
Leslie – Juste une mise au point
Little – Je veux des violons
Lorie – Play
Luke – La Sentinelle
Mademoiselle K – Ca me vexe
Mattafix – Things have changed
Soha – Tourbillon
Soprano – Ferme les yeux imagine toi
Tina Arena – Entends tu le monde
Vicky – Vicky le petit dauphin
---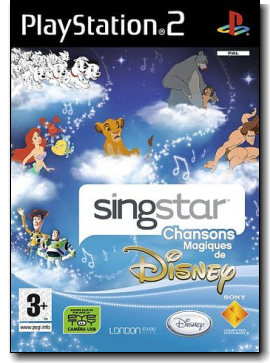 Aladdin – Ce rêve bleu
Cendrillon – Bibidi Bobidi Bou
Cendrillon – C'est pas une vie
Les Aristochats – Tout le monde veut devenir un cat
La Belle et la Bête – La Belle et la Bête
La Belle et Le Clochard – Il se traîne
La Belle au Bois Dormant – Je voudrais
La Belle au Bois Dormant – J'en ai rêvé
Le Livre de La Jungle – Etre un homme comme vous
Le Livre de La Jungle – Il en faut peu pour être heureux
La Petite Sirene – Embrasse-la
La Petite Sirene – Sous l'océan
Le Roi Lion – L'histoire de la vie
Le Roi Lion – Je voudrais déjà être roi
Peter Pan – A la file indienne
Peter Pan – Tu t'envoles
Tarzan – Enfant de l'Homme
Toy Story – Je suis ton ami
Winnie L'Ourson – L' Univers de Jean-Christophe
J'ai déjà fait des commentaires sur ce jeu, n'hésitez pas à aller voir : Singstar Chansons magiques de Disney.
---
– PS3 – 30 chansons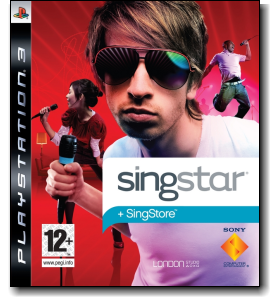 Anais – Mon coeur mon amour
Britney Spears – Toxic
Camille – Paris
The Cardigans – Lovefool
Charlotte Gainsbourg – The songs that we sing

Coldplay – Fix you

Daft Punk – One more time
Gorillaz – Feel Good Inc
Gwen Stefani – Cool
Junior Senior – Move your feet
Kaolin – Partons vite
Katerine – Louxor j'adore
The Killers – Mr Brightside
M – Mama Sam (Live)
Macy Gay – I try
Najoua Belyzel – Gabriel
Olivia Ruiz – La femme chocolat
OutKast – Hey Ya !
Oxmo Puccino – Avoir des potes
Phoenix – If I even feel better
Pussycat Dolls – Beep
Radiohead – No Surprises
Razorlight – America
REM – Losing my Religion
Robbie William & Nicole Kidman – Something stupid
Rose – La liste

Sinclair – A chaque seconde

Superbus – Butterfly

U2 – Beautiful Day
Wolfmother – Love train
---
– PS3 – 30 chansons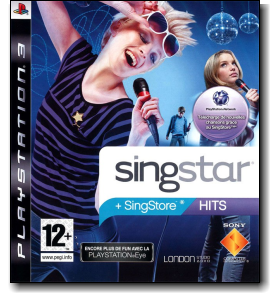 Aaron – Lili

Alain Souchon – Foule sentimentale

Anggun – Juste avant toi
Aston Villa – Un million de lézards

Camille – Ta douleur

Christophe Maé – On s'attache
Christophe Maé – C'est ma terre
Corynne Charby – Pile ou face
Didier Barbelivien et Felix Gray – A toutes les filles
Dorothée – Allo allo mr l'ordinateur
Etienne Daho – L'invitation
Frédéric Lerner – Plus la
Giles Gabriel – Flou de toi
Jean Pierre Francois – Je te survivrai
Julien Clerc – Femmes je vous aime
Justice – D.A.N.C.E.
Laam – Jamais loin de toi
Loane – Jamais seul
Louisy Joseph – Assis par terre
Lynnsha – Je veux que tu me mentes
Mademoiselle K – Grave
Magic System – Zouglou Dance
NZH – Princess

Pauline – Allo le monde

Raphael – Le vent de l'hiver
Renaud et Axelle Red – Manhatten-Kaboul
Rose – Ciao Bella
Soprano – black – Ferme les yeux et imagine toi
Yael Naim – New Soul
Zaho – C'est chelou
---
– PS2 / PS3 – 25 chansons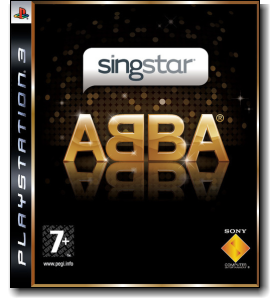 ABBA – Chiquitita
ABBA – Dancing Queen
ABBA – Does Your Mother Kno
ABBA – Fernando
ABBA – Gimme! Gimme! Gimme! (A Man After Midnight)
ABBA – Happy New Year*
ABBA – Head Over Heels*
ABBA – I Do, I Do, I Do, I Do, I Do
ABBA – Knowing Me, Knowing You
ABBA – Mamma Mia
ABBA – Money, Money, Money
ABBA – One Of Us
ABBA – Ring Ring
ABBA – SOS
ABBA – Summer Night City
ABBA – Super Trouper
ABBA – Take A Chance On Me
ABBA – Thank You For The Music
ABBA – The Day Before You Came*
ABBA – The Name Of The Game
ABBA – The Winner Takes It All
ABBA – Under Attack*
ABBA – Voulez-Vous
ABBA – Waterloo
ABBA – When All Is Said And Done*
*Chanson non présente dans la version PS2
---
– PS2 / PS3 – 25 chansons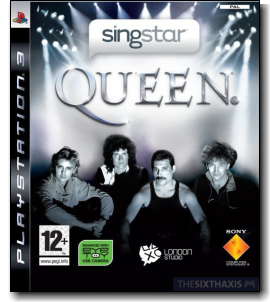 Queen – A Kind Of Magic*

Queen – Another One Bites The Dust
Queen – Bicycle Race
Queen – Bohemian Rhapsody
Queen – Breakthru
Queen – Crazy Little Thing Called Love
Queen – Don't Stop Me Now
Queen – Fat Bottomed Girls
Queen – Hammer To Fall*
Queen – I Want It All
Queen – I Want To Break Free
Queen – Innuendo
Queen – Killer Queen*
Queen – One Vision
Queen – Play The Game
Queen – Radio Ga Ga*
Queen – Somebody To Love
Queen – The Show Must Go On*
Queen – These Are The Days Of Our Lives
Queen – Tie Your Mother Down
Queen – Under Pressure
Queen – We Are The Champions
Queen – We Will Rock You
Queen – Who Wants To Live Forever
Queen – You're My Best Friend
*Chanson non présente dans la version PS2
---
– PS3 – 30 chansons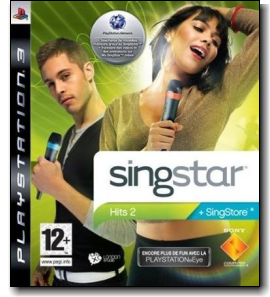 Aaron: Le Tunnel d'Or

Alain Souchon: L'Amour À La Machine
Alain Souchon: C'est Déjà Ça
Anggun: Cesse La Pluie
Anis: Rodeo Boulevard
Axelle Red: Rester Femme
Bensé: Au Grand Jamais
Cali: 1000 Coeurs Debouts
Empyr: New Day
Grégoire: Toi + Moi
Grégoire: Rue Des Étoiles
Julien Clerc: Fais Moi Une Place
Julien Clerc: Quel Jeu Elle Joue
Julien Doré: Les limites

Kyo: Je Cours

Les Rita Mitsouko: Ding Ding Dong (Ringing At Your Bell)
Magic System feat. Amine: On Va Samize
Manu Chao: Me Llaman Calle
Mattafix: Big City Life
Moriarty: Jimmy
Neg Marrons feat. Cesaria Evora: Petites Îles
Phoenix: Consolation Prizes
Pleymo: Moddadiction
Quidam: Nos Souvenirs
Raphaël feat. Toots: Adieu Haïti
Renaud: Mistral Gagnant
Subway: Paris
Tokio Hotel: Spring Nicht
Yelle: Ce Jeu
Zaho feat. Tunisiano: La Roue Tourne
---
– PS3 – 30 chansons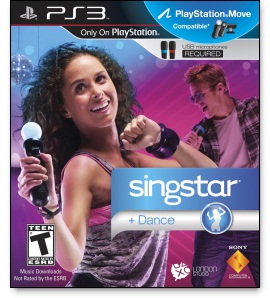 N Sync – Bye Bye Bye
Black Eyed Peas – Shut Up
Blondie – Heart Of Glass
Chris Brown – With You
Cyndi Lauper – Girls Just Wanna Have Fun
Diana Ross and The Supremes – Baby Love
Gloria Gaynor – I Will Survive
Gossip – Standing In The Way Of Control
Gwen Stefani – What You Waiting For?
Jamiroquai – Cosmic Girl
KC & The Sunshine Band – That's The Way (I Like It)
Kid Cudi vs Crookers – Day 'N' Nite
Kool And The Gang – Celebration
La Roux – Bulletproof
Lady Gaga – Poker Face
MC Hammer – U Can't Touch This
New Kids On The Block – Hangin Tough
Outkast – Hey Ya!
Paula Abdul – Straight Up
Pitbull – I Know You Want Me (Calle Ocho)
Reel 2 Real feat. The Mad Stuntman – I Like To Move It
Ricky Martin – Living La Vida Loca
Run DMC vs Jason Nevins – It's Like That
Salt N Pepa – Push
Shaggy – Boombastic;
Sir Mix A Lot – Baby Got Back
Soulja Boy – Crank That
The Backstreet Boys – Everybody (Backstreet's Back)
The Jackson 5 – I Want You Back
The Pussycat Dolls – Don't Cha
---
– PS3 – 30 chansons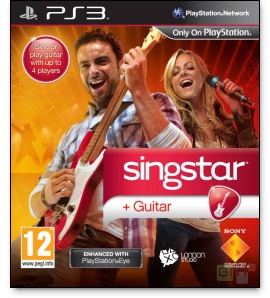 The Cure – The Lovecats
Blur – Song 2
The Cure – The Lovecats
U2 – Beautiful day
The Raconteurs – Steady as she Goes
3 Doors Down – Kryptonite
Pulp– Disco 2000
Kaiser Chiefs– I predict a Riot
Colbie Callat – Bubbly
KT Tunstall– Suddenly I see
Buzzcocks– Ever Fallen In Love With Someone
Muse– Supermassive Black Hole
Paramore– CrushCrushCrush
Vampire Weekend- A-Punk
The Stone Roses– Waterfall
Queen & David Bowie– Under Pressure
The Clash– Rock The Casbah
Ladyhawke– My Delirium
Florence and the Machine– Kiss With A Fist
Franz Ferdinand–No you Girls
Kasabian– Fire
The Cult– She Sells Sanctuary
Stereophonics– Just Looking
Pixies– Debaser
Bloc Party– Helicopter
David Bowie–The Man Who Sold The World
Jamiroquai– Too young to Die
Elbow– Grounds for Divorce
The White Stripes– Fell in love with a girl
Tina Turner– Steamy Windows
The Veronicas– Untouched
---
– PS3 – 30 chansons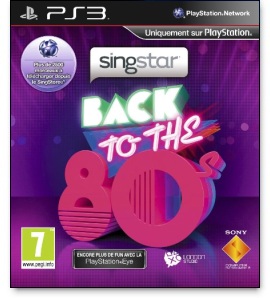 ABC – Poison Arrow
Beastie Boys – (You Gotta) Fight For Your Right (To Party)
Bros – When Will I Be Famous ?
Daryl Hall & John Oates – Rhythm Of The Night
Def Leppard – Animal
Deniece Williams – Let's Hear It For The Boy
Duran Duran – The Wild Boys
Elton John – I Guess That's Why They Call It The Blues
George Michael – Faith
Glenn Medeiros – Nothing's Gonna Change My Love For You
Heart – Alone
Jennifer Rush – The Power Of Love
J. Geils Band – Centerfold
Kim Carnes – Bette Davis Eyes
Kim Wilde – You Keep Me Hangin' On
King – Love & Pride
Neneh Cherry – Buffalo Stance
Orchestral Manoeuvres In The Dark – Enola Gay
Pat Benatar – Love Is A Battlefield
Philip Oakey & Giorgio Moroder – Together In Electric Dreams
Sade – Your Love Is King
Soul II Soul Featuring Caron Wheeler – Keep On Movin'
Spandau Ballet – Gold
The Human League – Don't You Want Me
Tight Fit – The Lion Sleeps Tonight
Toto – Africa
Ultravox – Dancing With Tears In My Eyes
Wham ! – Freedom
Whitesnake – Here I Go Again
---
– PS3 – PS4 – 30 chansons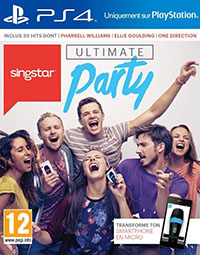 5 Seconds of Summer – She Looks So Perfect
Avicii – Hey Brother
Bridgit Mendler – Ready Or Not
Carly Rae Jepsen – Call Me Maybe
Clean Bandit Feat. Jess Glynne – Rather Be
Coldplay – Magic
Demi Lovato – Let It Go
Disclosure Feat. AlunaGeorge – White Noise
Ed Sheeran – Lego House
Ellie Goulding – Burn
Icona Pop Feat. Charli XCX – I Love It
John Newman – Love Me Again
Kylie Minogue – Can't Get You Out Of My Head
Lady Gaga – Born This Way
Lionel Richie – Hello
Lorde – Royals
Naughty Boy Feat. Sam Smith – La La La
Olly Murs – Dear Darlin'
One Direction – Best Song Ever
One Republic – Counting Stars
P!nk Feat. Nate Ruess – Just Give Me A Reason
Paramore – Still Into You
Pet Shop Boys & Dusty Springfield – What Have I Done To Deserve This?
Pharrell Williams – Happy
Plan B – She Said
Selena Gomez – Come And Get It
Swedish House Mafia Feat. John Martin – Don't You Worry Child
The Lumineers – Ho Hey
TLC – No Scrubs
Train – Drive By
---
– PS4 – 30 chansons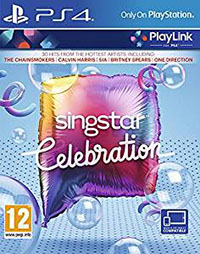 Adele – Hello
ABBA – Dancing Queen
Amy Winehouse – Rehab
Avicii – Wake Me Up
Blondie – One Way Or Another
Brandi Carlile – The Story
Britney Spears – Oops!… I Did It Again
Calvin Harris & Disciples – How Deep Is Your Love
Ella Henderson – Yours
Elle King – Ex's and Oh's
Fun. – Some Nights
Hilary Duff – All About You
Iggy Azalea feat. Charli XCX – Fancy
Jason Derulo – Want To Want Me
Kings Of Leon – Use Somebody
Lost Frequencies – Are You With Me
Marvin Gaye & Tammi Terrell – Ain't No Mountain High Enough
Meghan Trainor – All About That Bass
Oasis – Wonderwall
OMI feat. Nicky Jam – Cheerleader
One Direction – What Makes You Beautiful
Roxette – It Must Have Been Love
Shawn Mendes – Stitches
Sia – Cheap Thrills
Tegan And Sara – Closer
The Chainsmokers feat. Halsey – Closer
U2 – I Still Haven't Found What I'm Looking For
Wham! – I'm Your Man
Young Rising Sons – High
Zara Larsson – Lush Life
---
Fiou, c'est fini pour la liste des chansons des jeux sortis en France, mais il existe pas mal d'autres versions de SingStar, dont une version années 90 sorti en Grande Bretagne! Bref, de nombreuses heures de jeux en perspective! de plus si l'on rajoute le millier de chansons à télécharger sur le SingStore, il y a vraiment de quoi faire!